Service-Learning Student Video Editor – Max Wong
Student Forum 2023 Successfully Conducted!

Student Sharings: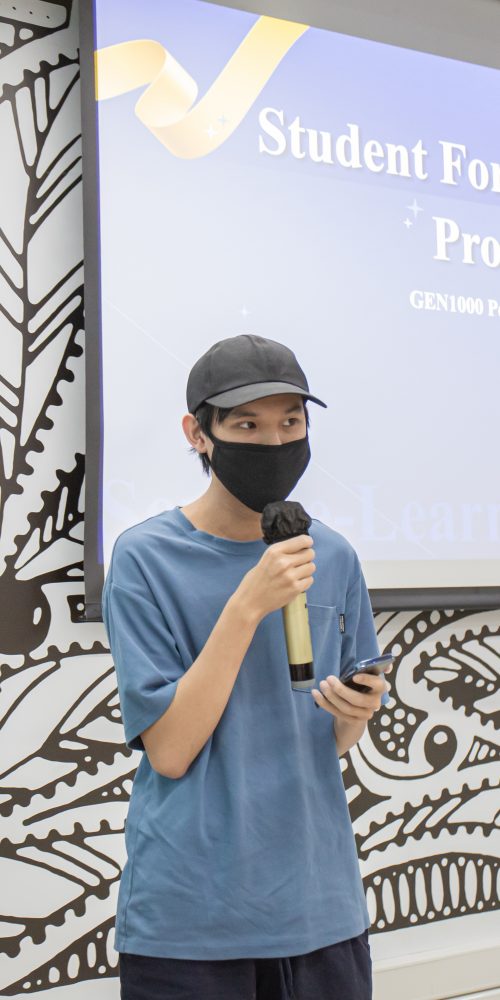 Our team wants to see more vegetarian dishes on the menu at M Canteen. By trying vegetarian options, we can understand the benefits of vegetarianism and help protect the Earth.
Through a Service-Learning project, I learned valuable skills like leadership and communication. It boosted my confidence and made me realize the importance of connecting with others.
I found the experience interesting and would love to do more Service-Learning projects. 
By student of GEN1000 Perspectives on General Education
(semester 1, 2022/23)
Our team had an amazing experience connecting with ethnic minorities in Hong Kong and learning about their lives and challenges. We also visited a local elementary school to see how non-Chinese students learn Chinese, math, and English.
Initially worried about the language barrier, we discovered that with patience, we could communicate and have enjoyable interactions. This experience has given us more confidence in promoting social integration and fostering harmony with ethnic minorities.
Our main goal is to help these students better integrate into society and deepen our understanding of each other. We believe that together, we can create a more inclusive and harmonious community.
By student of ASI1002 Individual and Society
(semester 1, 2022/23)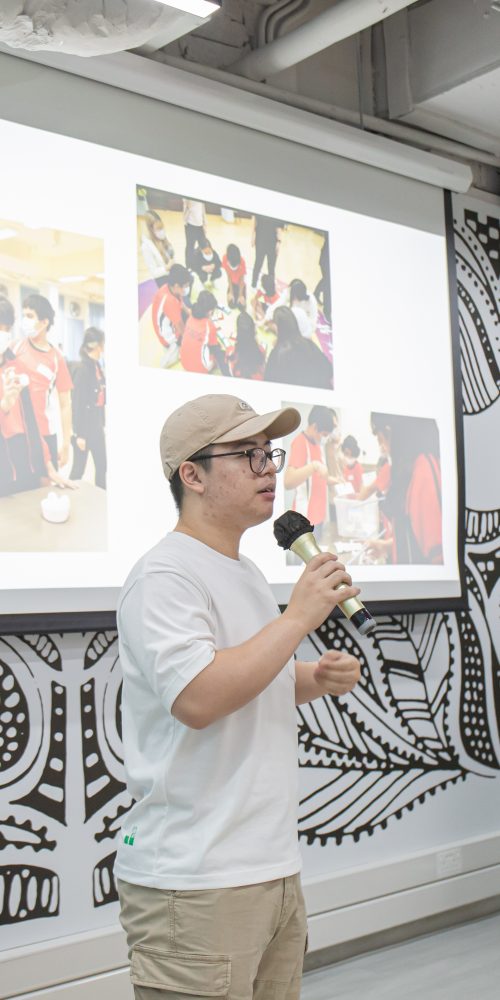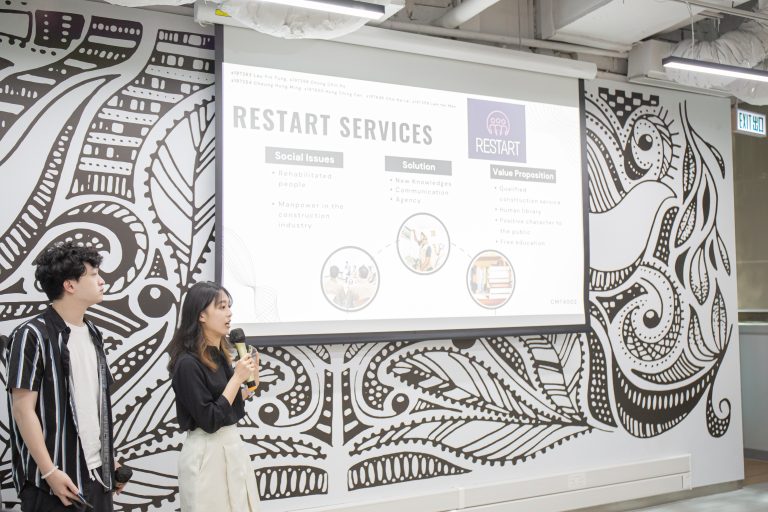 Our team project aims to support individuals in rebuilding their lives. We have noticed a decline in the number of people working in the construction industry, often facing difficulties in finding employment due to negative perceptions. To address this issue, we are committed to providing education on the construction industry, helping them obtain necessary licenses, and connecting them with comprehensive services for families in need.
Simultaneously, we encourage participants to share their personal stories, explaining their past actions and demonstrating how they have transformed. This serves as an educational tool, enlightening young people about personal growth and inspiring positive change.
This project has deepened our understanding of social issues, motivating us to identify areas where assistance is required. We also seek to collaborate with existing social enterprises addressing similar concerns. Our goal is to refine our program, making it more attainable and impactful.
Working alongside diverse high school students to determine the services we should offer and explore potential social enterprises has been incredibly engaging. It provides a unique opportunity to connect with new individuals outside of our school environment.
By student of CMT4002 Web-media Production (semester 1, 2022/23)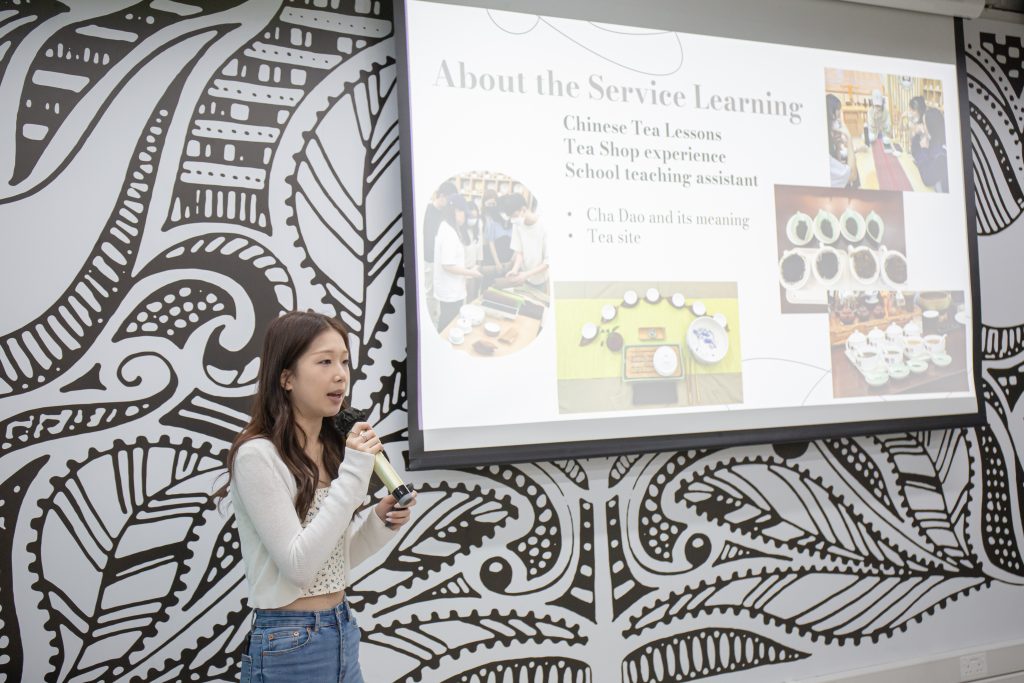 We recently visited a tea factory, immersing ourselves in the world of tea and learning the intricacies of tea ceremonies. Taking an exam as tea critics was an invigorating experience.
As teaching assistants at a school, we taught students how to make tea and set up their tea utensils. The school also invited tea enthusiasts to share their experiences with us.
Excitingly, the school built a special tea room for students to deepen their tea knowledge. We organized a tea competition, allowing students to showcase their skills, with a museum curator assisting in the grading.
Participating in this event brought us immense happiness as we spread awareness and appreciation for tea culture.
By student of ASI4102 Special Topics in Asian Studies II (semester 1, 2022/23)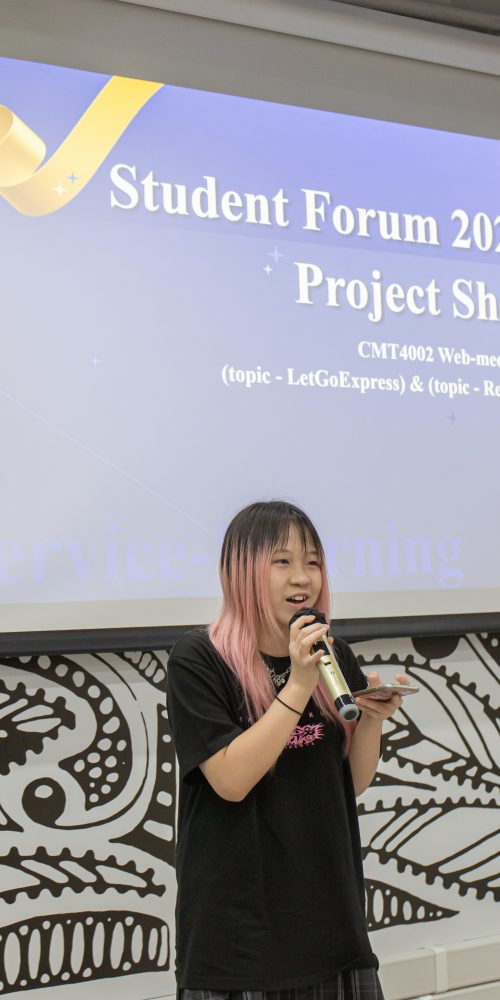 We are excited to share with you our project, the "Lost Love Tour," inspired by Taiwan's "Lost Love Garden." Our aim is to assist individuals struggling with lost love and provide them with much-needed support in Hong Kong.
Through our program, we help participants confront their pain and gradually heal. Additionally, we offer the "Lost Love Experience Tour" for couples considering separation to explore the concept of lost love.
We find this program captivating as it fills a void in available services, offering solace to emotionally distressed individuals.
By student of CMT4002 Web-media Production (semester 1, 2022/23)
Our Service-Learning project involved assisting social enterprises and empowering special workers. We supported DEF Café, a coffee shop run by the Hong Kong Society for the Welfare of the Deaf and Dumb. DEF Café provides job opportunities for the deaf, promotes sign language, and raises awareness about their lives.
We also visited a restaurant staffed by migrant workers, aiming to increase their income and integration into society. We believe more attention, support, and job opportunities should be provided to them.
Join us in raising public awareness of social enterprises and supporting these deserving workers.
By student of MGT1024, Leadership and Sustainability
(semester 1, 2022/23)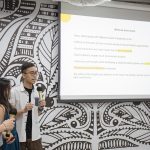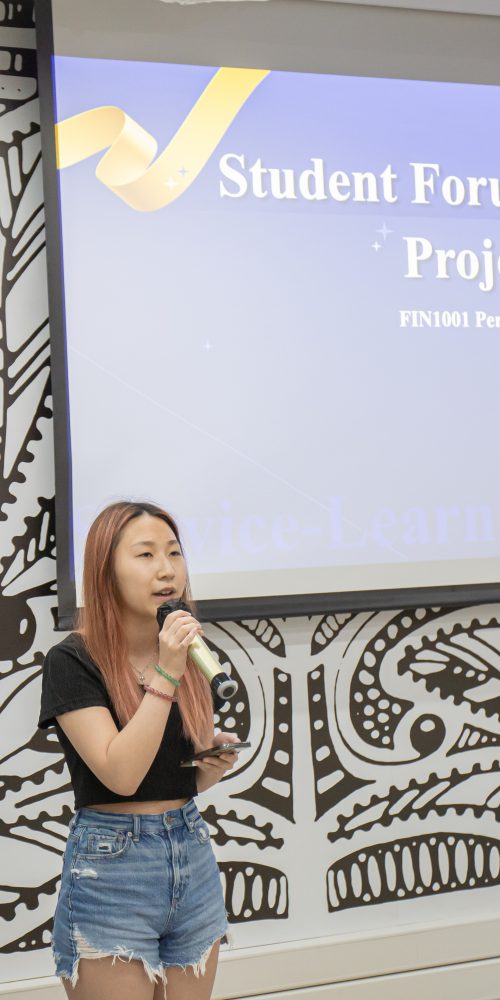 Our project involved teaching financial management to seniors at local centers. Our goal was to provide them with basic financial knowledge while learning from their experiences. The program consisted of two parts:
We discussed fundamental financial concepts like HITA free and bonds, using interactive games to make learning easier and more engaging.

We played the "Fraud Prevention" game, helping seniors recognize different types of frauds and protect themselves from scams.
Despite challenges like hearing difficulties and language barriers, we learned the importance of patience and simplified communication.
Overall, it was a mutually beneficial learning experience for both the seniors and us.
By student of
FIN1001 Personal Finance and the Society
(semester 2, 2022/23)
Our project involved teaching paper cutting to elderly residents at a nursing home. Each group taught two seniors, providing templates and guiding them through the process. It was a fun and enjoyable experience.
Despite encountering challenges, like limited vision, we encouraged and simplified the process. In the end, they created two beautiful works and felt happy. It was inspiring for us, allowing them to find self-worth.
We taught them lotus flowers and goldfish. One senior initially hesitated due to her eyesight, but with our support, she successfully cut out a goldfish. She was thrilled to enjoy paper cutting with her grandchildren during Easter.
Overall, it brought joy, meaning, and boosted their self-confidence.
By student of GEN2028 Stress Management for Health and Wellness
(semester 1, 2022/23)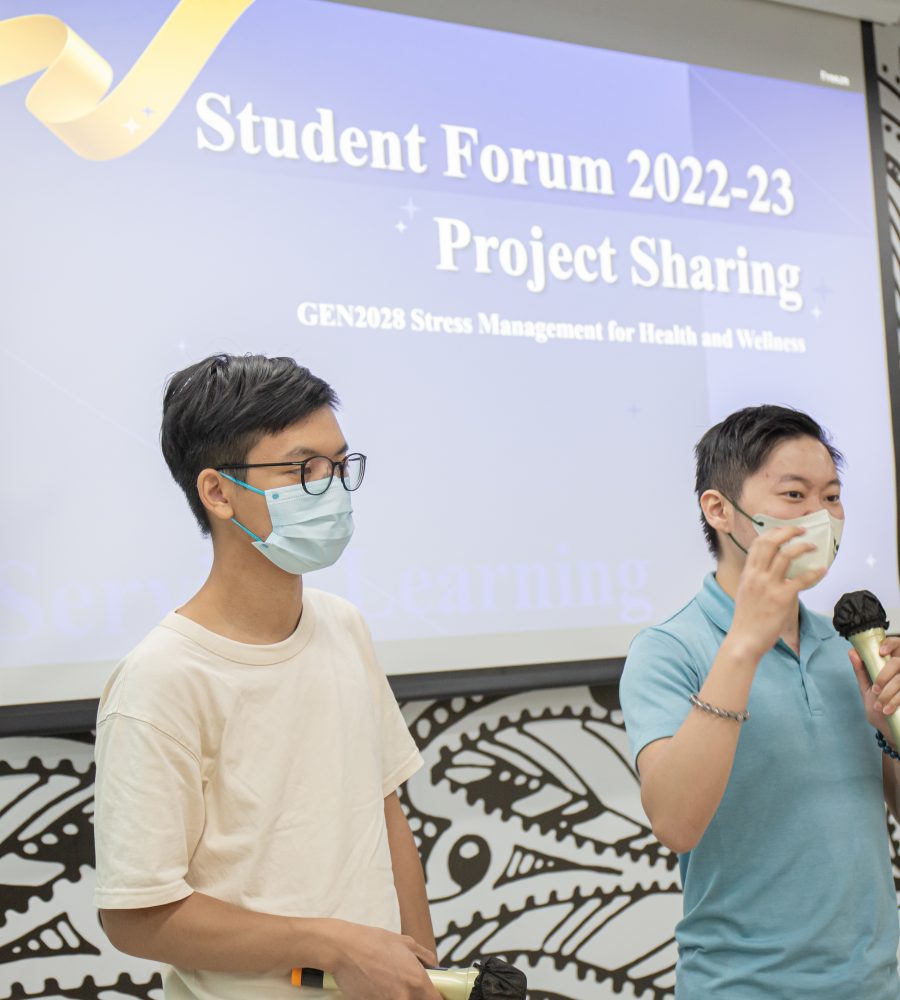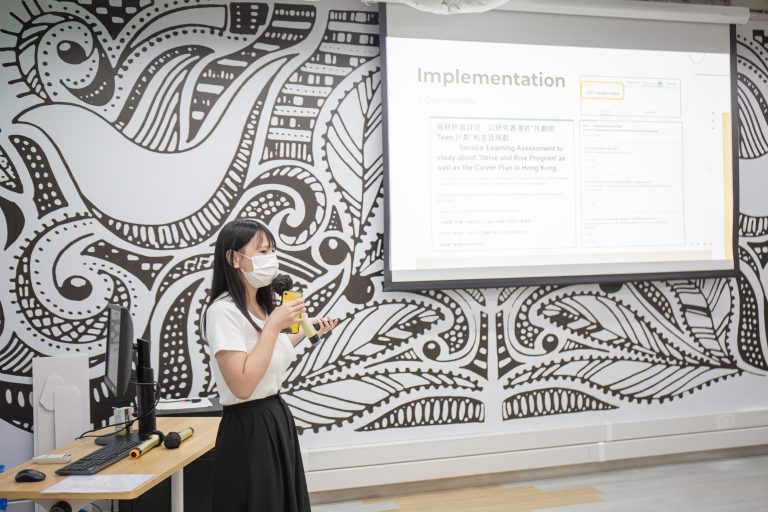 We've noticed that government resources for career planning have yielded unsatisfactory results. Our service focuses on secondary school students in Hong Kong. Through research and interviews, we've identified their needs and perceptions. Many students are unaware of the "Creating Youth Together" program due to limited promotion. We engaged Co-Create Teen mentors and interviewed Mr. KWAN Man-yu, a mentor for the Enhancing Employment of Young People with Disabilities Project, to gain valuable insights.
This project holds immense value as we directly connect with students and instructors. By applying web technology and social connections, we've enhanced the project's efficiency and effectiveness.
By student of COM1002 Cyber Technology and Society (semester 2, 2022/23)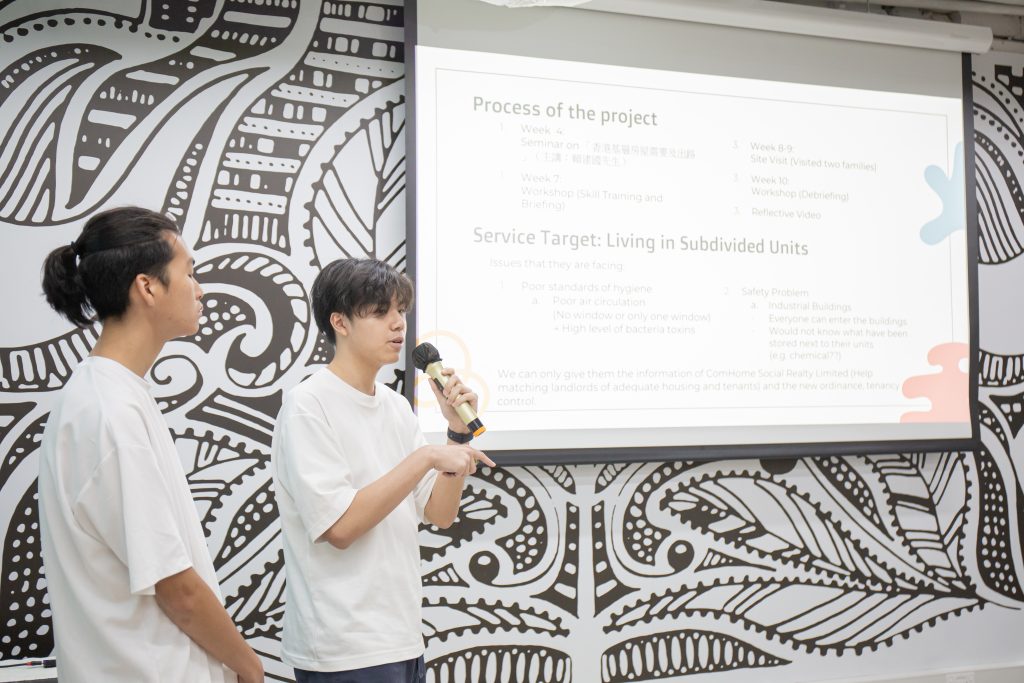 Our project involved visiting underprivileged families to assess rental housing management policies and offer support. We witnessed poor living conditions, including inadequate water supply, sanitation issues, and pest infestations. Despite high rent payments, these families faced significant hardships. This experience deepened our understanding of the struggles low-income families endure.
While providing limited assistance, such as informing them about rent control policies and rental services, we recognized the need for fair housing opportunities and the shortcomings of current policies. This project prompted critical reflection on the multifaceted nature of housing problems and the effectiveness of government initiatives.
Through firsthand experiences, we gained insight into the challenges faced by low-income families and questioned the long-term viability of existing housing policies.
By student of PPE2001 Social and Political Philosophy (semester 2, 2022/23)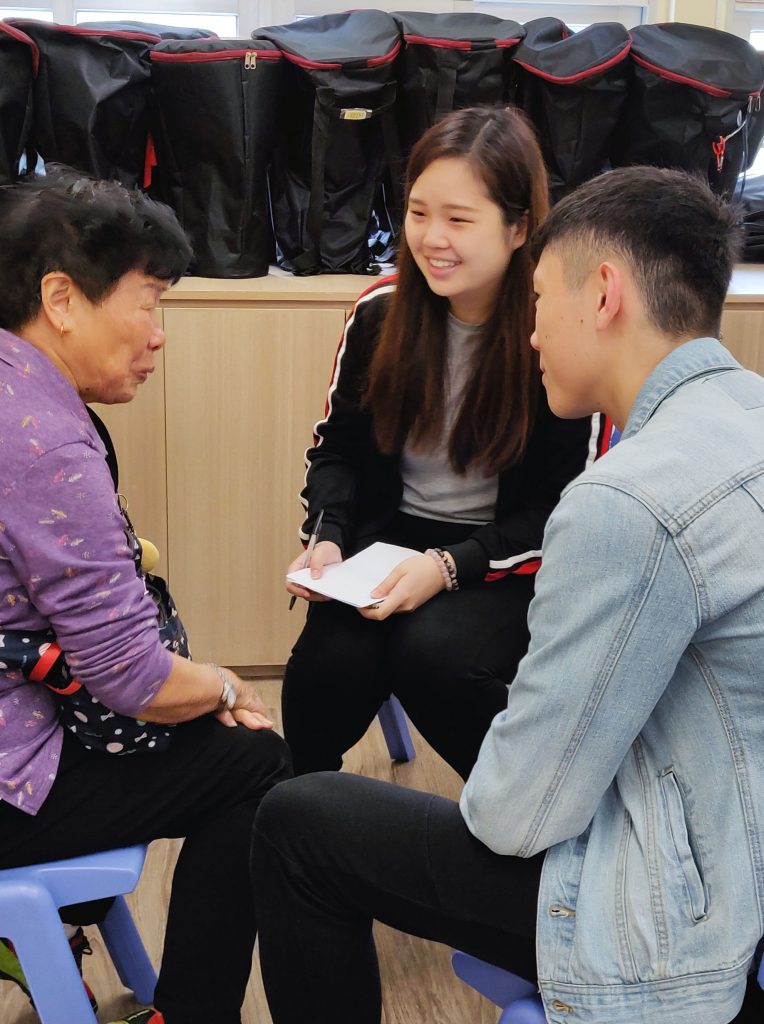 "this service learning project…(allowed us to) know the actual needs of the elderly after doing this project… one of our interviewees is a wheelchair user. It is difficult to imagine how they feel and their needs as a wheelchair user without directly talking with her.
The service-learning project also provided a golden opportunity for us to deal with the needy in our society.
As a new generation in our society, this project reminds me that we all have the social responsibilities in understanding and taking care about different people in our society, especially the needy and elders.
It is important for us to help them speak out their needs, request the support from the government and arouse awareness from the general public."
By student of BUS3002 Consumer Behaviour 
(semester 2, 2018/19)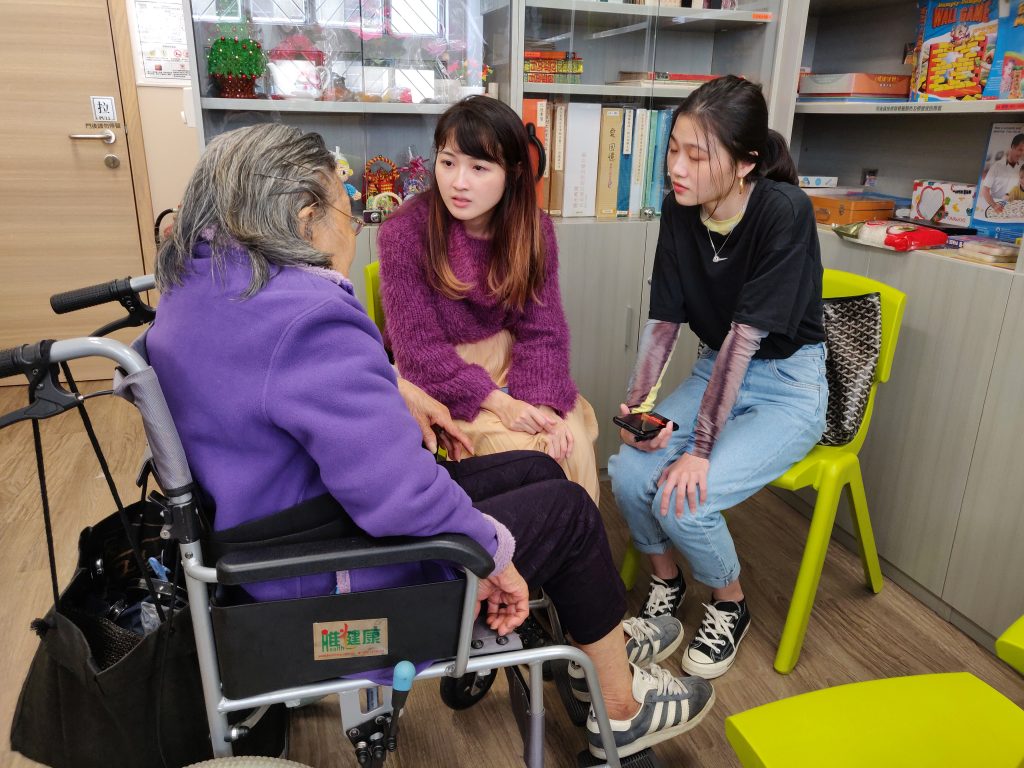 "Through this Service-Learning project, we had ample opportunity to be in touch with the elderly in order to understand the current social situation among them. After this project, I am glad to come up with some possible and practical suggestions for easing their current constraints.
Meanwhile, it allows me to apply useful theory or concepts from the course in order to enhance the effiectiveness and diversity of the recommendations. By student of BUS3002 Consumer Behaviour (semester 2, 2018/19)
We sincerely invite all students to join the exciting and meaningful journey that opens up your heart and mind and make real impact in our community!